Emergency Medical Services (EMS) have come a long way since the original 'hôpital ambulant', or horse-drawn field hospital, stumbled over a smoke-wreathed battlefield in response to distant cries for assistance. A modern ambulance may share the same etymology and overall purpose, but the technology has evolved beyond recognition.
These days a crew knows exactly where it's going and what it has on board, and feeds back information in real time to the command centre. For an increasing number of EMS providers globally, much of this enabling technology is provided by ACETECH™.
ACETECH™ is committed to the concept of True Performance, where everything we introduce makes a measurable, material difference to real-world outcomes. Let's consider a few of the ways we're helping EMS crews throughout a shift.
6.30 AM: BESPOKE DRIVER ALERTS
An early morning shift often starts with an emergency, and in blue light mode you need as much speed as you can safely use. But when the first patient has been attended or helped to hospital, an ambulance operates to the same rules as the rest of the vehicles on the road. It can, however, take a little time for a driver to re-calibrate. That's where AVA comes in.
She's officially the 'ACETECH™ Voice Announcement', but AVA for short – an automated in-cab warning that activates over a set speed limit. Many crews have not heard her stern robot voice advising "Maximum speed limit exceeded!" for a while now, with the real-world outcome that speeding infringements are on average 40% down since AVA joined the team.
08.00: INTELLIGENT ANTI-IDLING TECHNOLOGY
By the time rush-hour exerts its grip, there's no way of avoiding traffic. It's pretty much where ambulances operate. A modern private car will be fitted with a stop/start system so it automatically cuts off when stationary, but with an ambulance it's not so simple, as they rely on the engine to charge on-board devices. It may not need to keep running at every traffic light, but a crew can't take the risk of arriving with uncharged equipment.
The ACETECH™ ECO-RUN module provides a smart answer to this conundrum, by monitoring battery levels and temperatures in both driver and patient compartments. When they're right, the system automatically shuts off the engine, then restarts only when required.
The results are astounding. The figures show up to 76% less idling, greatly reduced engine wear and downtime, alongside huge carbon savings thanks to improved fuel efficiency. Benefits include less driver and crew stress and, above all, a vehicle that's always ready to serve.
11.00: THE HEAT IS ON
The sun is most of the way to its daily zenith, providing another source of power to help keep everything charged up. ACETECH™ SOLAR's eco-friendly panels provide a convenient, reliable and cost-effective way to reduce battery fatigue. The system delivers a constant trickle charge, keeping the fleet on the road longer while further minimising engine idling.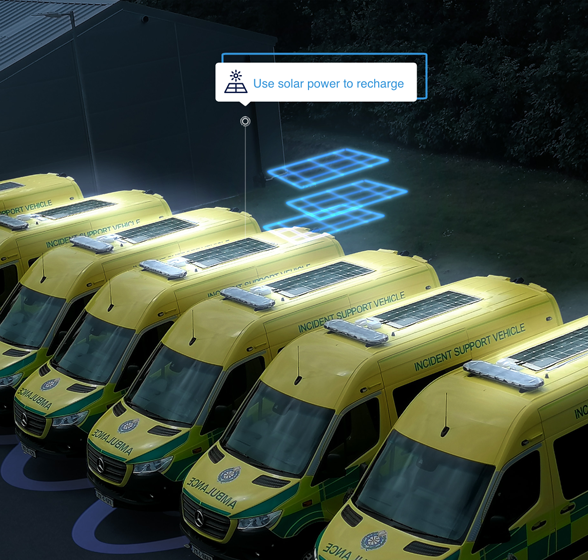 14.00: SEE THE WHOLE PICTURE
A post-lunch dash to another urgent call, and as ever, time is tight. Anything that helps the driver and crew feel reassured is a bonus, with visibility near the top of the list.
By the nature of its role, an ambulance is exposed to greater risks than other vehicles, more often. Blind spots are common when manoeuvring, and once in place at the incident, both vehicular and pedestrian activity around the ambulance are often more unpredictable than in a regular vehicle. To cap it all, well-equipped emergency vehicles are clearly a target for theft.
ACETECH™ VISION is an unobtrusive, state-of-the-art CCTV camera system that allows for up to four cameras; front, rear, side and in-cab. All data feeds up to ACETECH™ Vehicle Intelligence, our cloud-based software platform, where the team can receive diagnostic alerts, watch live vehicle footage, or replay videos.
For patient privacy, in-cab cameras can be set to monitor only, switching to record when a panic button is pressed, say in the event of an assault. Streaming quality is superb, and video data is stored safely on-board for several months, with up to 2TB of storage. All of this helps crews perform more efficiently, safe in the knowledge that there's a real-time back up of all their decisions and actions.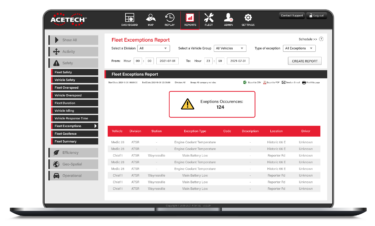 16.00 – THE EYE IN THE SKY
The schools are out, the sun's staying put and it's time for a well-earned break before the next call-out. Instead, our ambulance is advised that, barring unforeseen incidents, the best plan will be to head slowly back to base to prep the ambulance for its next outing. It's low on a few medical supplies and the defibrillator is due for a service.
ACETECH™ Asset Intelligence means that most things can be monitored remotely, from medicine expiry dates and temperature to the vehicle itself, right down to fuel range. Far from resenting this as obtrusive surveillance, the crew prefer it to be all taken care of. There's already enough to stay on top of throughout a long shift.
ALL DAY, EVERY DAY
ACETECH™ solutions never rest in pursuit of their main purpose: improving the performance of our clients' fleets and improving patient outcomes. From visible impacts like improving response times, improving outcomes and reducing collisions, right up to the eco-footprint of the fleet in daily use, ACETECH's commitment to ever-higher standards exists to make a difference – to fleet managers, to crews and to society.
---
To learn more about ACETECH's Solutions and how it can benefit your organisation, Contact Us Today or simply Request A Demo!
---