Vehicle Monitoring & Intelligence
All your vehicle data, stored, accessible 24/7
Optimize your fleet for ultimate performance by making data-informed decisions. Avoid spending time manually tracking vehicles, and instead get access to real-time data when you need it.
Save time by collecting all vehicle and location data automatically
Drive higher vehicle and driver performance with real-time monitoring
Access all the historical journey data you need in case of an incident
Without vehicle data – everything is
chaos
Vehicle data is crucial for performance, it's what can ultimately drive you to new performance levels and avoid chaos for good.
Manually collecting mileage for vehicles is susceptible to human error. While not having journey data could mean a liability risk in the event of an accident. Without vehicle data, decisions are made from assumptions vs. being data driven.
All your vehicle and location tracking data in a single place
Having data in real-time in one place, helps your fleet better perform. Get data sent directly to the cloud, and analyzed via our vehicle data tracking software. Find all the data you need in one place, so you can make data-informed decisions; cutting costs, improving efficiencies, and building a foundation of safety.
Vehicle location tracking analyzed for you
All vehicle data in one place
Driver behavior breakdown
Complete historical journeys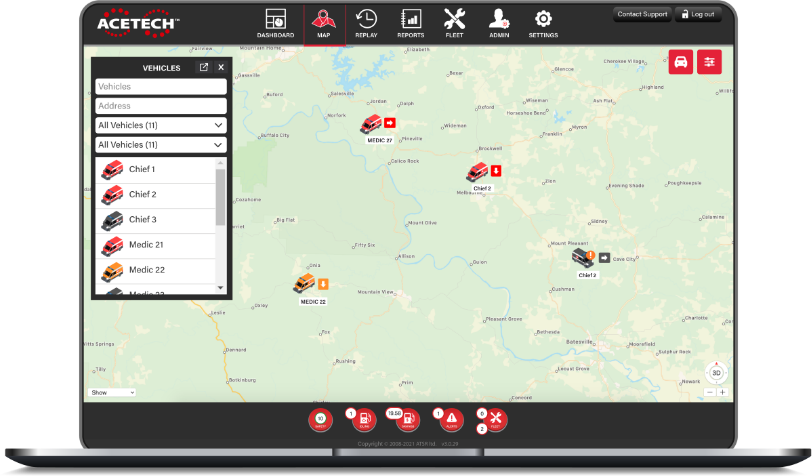 Higher performance starts with data
And increase your overall organization performance:
CUSTOMER CASE STUDY
The largest Emergency Vehicle Provider in the world achieves True Performance with ACETECH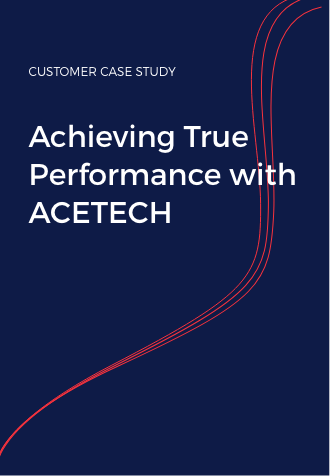 All-Star Support that Predicts Your Moves
Forget about support response times. Our Support team predicts when you will need help and contacts you in advance.

"Pulaski EMS appreciates being able to look at their ACETECH system because it is designed by thoughtful people who are integrating different aspects of each vehicle with an understanding of the EMS industry. ACETECH knows that Pulaski and other EMS fleets are not the same as truck drivers and delivery drivers, and that EMS drivers need to be able to do all these things and have it all integrated in one spot. This way, paramedics don't have to find ways to mesh all kinds of different products together within their vehicles."
Product Components in Vehicle Intelligence Solution Package
Core Components: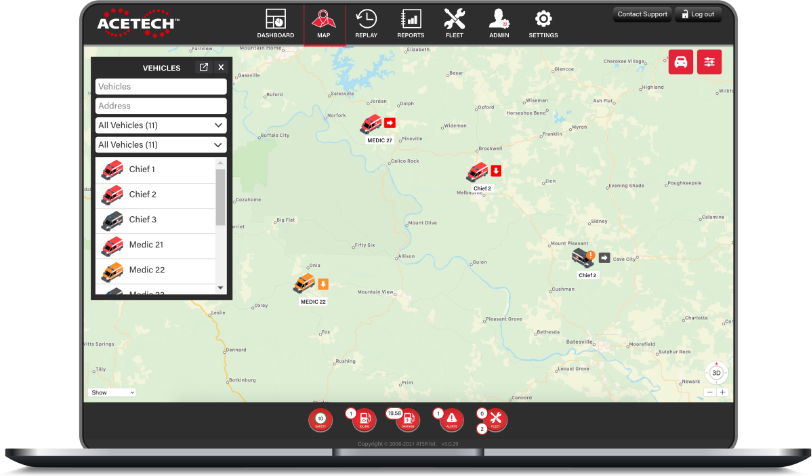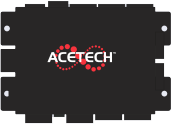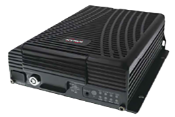 Vision Hardware
Add on CCTV system to capture live video feeds inside and outside of the vehicle.
Products for True Performance
Solution Package Data Sheets