CONTROL
ACETECH™ CONTROL is an intelligent ECU that provides drivers control of all automotive appliances, such as HVAC, lights, sirens, and more
Operate all your vehicles electronics and lighting systems through one device
Get instant and effective diagnostics so you can take action when you need
Customize vehicle electronics as needed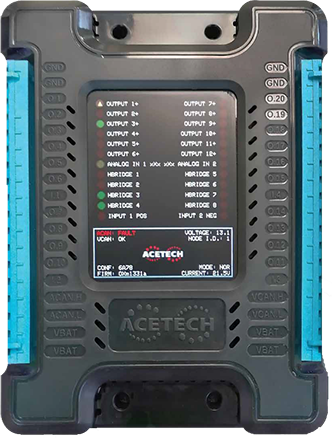 Features
Easy to use reporting software with built-in diagnostics

Multiplexing to reduce wire bundling

Compact and sturdy design built for all climates and environments
Specs & Data Sheets
Touch Control Systems is a part of:
Contact Support
Product Models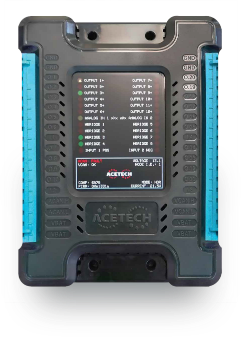 CONTROL 20 Pro
The CONTROL 20 Pro is our ultimate multi-signal control unit, which incorporates the latest cutting edge features that emergency vehicles require. It also is built to be easily scalable for any application need, so your hardware will last, unlike other technologies.
With the ability to monitor and log PRM, H-bridge, and soft-fusing output currents over time, the unit saves you huge amounts of time (and headaches).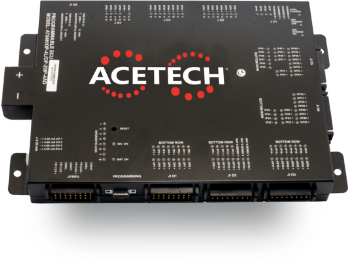 CONTROL 64
The CONTROL 64 ECU is a perfect starting point as it reduces time spent wiring, and the cost and weight compared to traditional wiring systems.
Specifically made with emergency vehicle fleets in mind, it has no moving parts and all outputs are driven via solid state FETs which provide thermal and current protection.
Compare Models

CONTROL 20 Pro

CONTROL 64
Visual Diagnostic Display
Yes – 2.2" TFT Colour Display
Up to 5 CONTROL 20 Pro units can be linked together
Only 1 CONTROL 64 unit per vehicle
Incredibly small footprint of 135x103x22mm
Large Size at 330x250x45mm
x20 (8x Software Configurable)
Automatic Voltage measurement
CONTROL works with the following solutions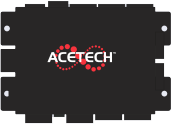 Frequently Asked Questions
What device is best for my vehicle?
Whether to choose the CONTROL 20 Pro or the CONTROL 64 depends on a number of variables such as amount of inputs/outputs required, type of vehicle and functionality required. Generally speaking the CONTROL 20 Pro handles most of the needs of a complex emergency vehicle environment, uses more powerful technology and is lighter and smaller, so is the preferred choice for builders. A member of our sales team will be happy to discuss what option best suits your vehicle build and type.
Can I run remote diagnosis?
What if I have complex vehicle requirements?
Is it suitable for ECO-Focused Fleets?