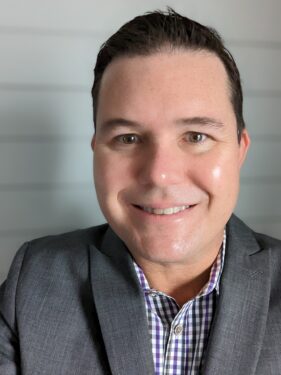 ACETECH continues to gain traction around the globe as more and more fleet managers and Emergency Services providers see the value in our proven 'True Performance' solutions. Last year saw the largest period of growth in employment in our company's history, as such we always pride ourselves on our ability to attract top quality people to enhance our team. In the US market in particular, our products and services have gained huge traction in recent years so in order to best support and serve our valued clients we are delighted to introduce our newest member of the team – Lex Abbott!
Lex Abbott is a results-driven sales professional with 12+ years experience in the technology industry. His in-depth knowledge of what are his clients' needs and what technology is available today allows him to exceed customer expectations and provide excellent service. He is passionate about developing and maintaining strong relationships centered on trust with each of his clients.  He attributes his success to his ability to listen to customers and put their needs first.
When asked about his reasons for joining ACETECH, Lex said: 'The decision to join ACETECH was simple as the company's core values unequivocally align with my own and I can confidently say the robust ACETECH technology is the platform of the future in the US. I look forward to providing best in class solutions to first responders for many years to come.'
Fun Fact: Outside of work, Lex enjoys spending time at the beach and traveling with family, golfing, studying sports history and collecting 1980's pop culture art!
---
Meet the Rest of the US Team!
Tim Schroeder
Director of US Operations

Tim is a licensed professional engineer and award winning innovator in the EMS industry. He received an engineering degree and Masters in Business Administration from the University of Cincinnati. Tim has dedicated most of his career to the advancement of the EMS industry through disruptive innovations aimed to improve safety, operational efficiency, and performance of EMS services around the globe.

Tim co-chaired and been a key participant in a number of committees responsible for developing cot crash retention standards, on-board equipment crash retention standards and cabinetry crash retention standards for USA Ambulances. He was Program Lead and Co-inventor of the Ferno Intraxx modular crash stable equipment mounting System which won the 2016 and 2017 national ems safety innovation award, Co-inventor of the worlds-first electro-hydraulic powered patient transport cot, the Powerflexx, and Co-inventor of the iNX robotic patient handling system. He also has a number of business dealings in the Augmented Reality and UI/UX for websites and human interface design fields.

In his free time you can find Tim on Lake Travis where he loves to spend time boating, wakeboarding and surfing or on the softball field coaching youth teams.
---
Emily Hull
Director of Sales, North Amertica

Before ACETECH, Emily had the privilege of serving the EMS industry through her work developing a software company focusing on e Patient Care Records in Canada. In this role, she was instrumental in building the business through sales, and product roadmap development. She was introduced to ACETECH through this role, and facilitated the integration of patient data with ACETECH's vehicle data. She joined the ACETECH team in March of last year in her role as Director of Sales for North America. She is enthusiastic to introduce our solutions across the region and will remain devoted to liaising with clients and partners, ensuring we understand the growing needs of our markets today and into the future.
---
Kevin Tapply
Senior Sales Executive

Kevin is a 35+ year veteran of the Public Safety industry, beginning his career as a police officer in New Hampshire.  Within a few years he switched from "Protect and Serve" to serving those who Protect and Serve. Kevin has worked for various companies in his career including Cerulean Technologies, Motorola, and ZOLL. Kevin's role at ACETECH is that of Senior Sales Executive helping EMS and Fire agencies understand the capabilities that ACETECH solutions can provide and guiding clients to navigate the purchasing process.
---
David McGowan
ACETECH Consultant

David has been with ACETECH for 3 years and provides post sale professional services to ensure our systems are tailored to perform at optimum levels for our customer's unique operations. With over 35 years of EMS experience, he brings a wealth of knowledge that our customers find exceptionally high value in. Among other distinctions in the EMS field, David is recognized nationally for his expertise in Ambulance Safety programs and education, presenting at major conferences and authoring many articles. An interesting fact about David, he owns a classic ambulance.
---
Blazej Rogowski
US Technical and Service Manager

Blazej is another stalwart of the organisation having been working with Acetech since 2007. Through his time with the company he has become deeply experienced in European, Canadian and Middle Eastern markets and his knowledge and expertise is hard to come by. Focusing on Acetech product delivery, customer success and new technologies research and development, Blazej is recognized and the go-to person for technical and product queries alike.

He also would love to meet Ryan Reynolds saying he is one cool guy and definitely someone that he would love have lunch with!
---
Jared Bristol
Field Applications Engineer

Jared has been with ACETECH for over two years now and works as an Applications Engineer, which means you'll find him assisting the Sales Team with demonstrations, presentations, product evaluations, installations, technical calls, etc. If you haven't worked with him along your ACETECH journey, at some point, you will. 

In his free time, he enjoys mountain biking, snowboarding, skydiving…pretty much anything that gets the blood/adrenaline flowing!
---
Peter Kuo
Field Applications Engineer

Peter Kuo is our Field Application Engineer for ACETECH USA. His background is in Computer Engineering Technology and he has been in the first responder industry for over 8 years. 

Peter also loves to tinker with things to figure out how they work in his spare time and enjoys a good challenge. On his free time, he loves to work on cars or do outdoor activities
---
Contact our team today and find out ACETECH can help your fleet achieve True Performance.
Fill out our Contact Form
Email: info@acetech.com
Call: +353 (0) 5793 29 404