We would like to wish everyone, no matter where you are today, a very Happy St. Patrick's Day!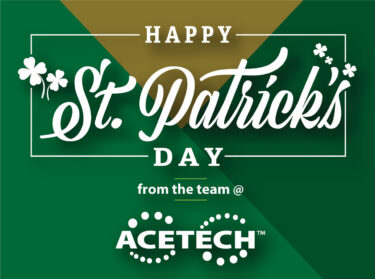 This day is a celebration of togetherness and culture – but here is a fact that maybe you didn't know:
Do you know why people wear green on St Patrick's Day?

Irish Immigrants in the United States (going back many, many years) believed that wearing green made them invisible to leprechauns – the classic fairy creatures who pinch anyone they can see!
We hope everyone is safe, healthy and acknowledge that which has us staying apart has never united us in such a way before. We look forward to getting past this and working with you again soon.
Happy St. Patrick's Day,
The ACETECH Team