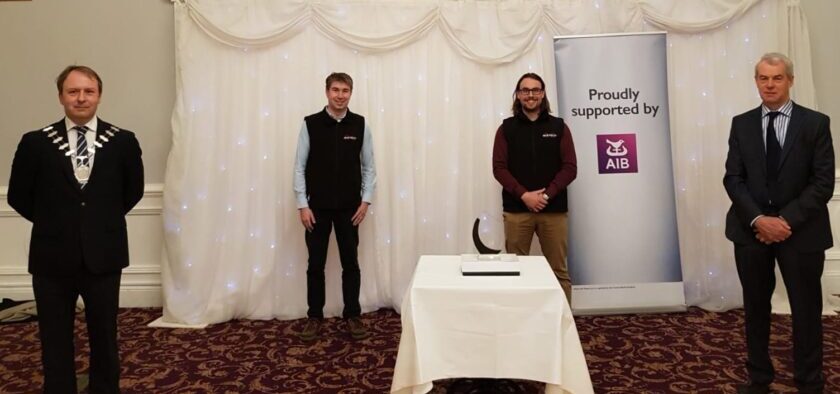 ACETECH Vehicle Intelligence were delighted to be presented with the prestigious 2019 Environmental Awareness Award from the Tullamore District & Chamber Business Awards, sponsored by AIB.
This award recognises the extraordinary contribution and commitment that companies now make towards growing more eco-friendly – it commends those who have demonstrated leadership to enhance the environment and implement sustainable practices. It highlights an array of organisations who are pushing the envelope when it comes to securing a greener future.
ACETECH™ are actively engaged in changing driver's habits that contribute towards inefficiency, innovating new technology to drive massive carbon savings and creating new software to revolutionize telematics and how it can positively impact large vehicle fleets.
We are thrilled to finish the year with this wonderful win, as we started 2020 off by winning the Green MedTech Award for sustainable development in the MedTech sector.
---
Congratulations to all the winners and nominees!
---
We have a number of products at the core focus of saving energy and reducing carbon footprint. The three main products comprising this are: ACETECH™ AVA, ACETECH™ ECO-Run & ACETECH™ Solar.
ACETECH™ AVA 
ACETECH™ AVA is an Audio Voice Alert module that was created originally with driver safety in mind, but it's impact on driver speeding has had some serious ECO benefits. ACETECH™ AVA Voice Alert is an audio driver coaching tool that provides real-time feedback to coach safer driving manoeuvres and make drivers aware of safety hazards and equipment status. Coaching safer driving behaviours has a direct impact on the client's fleet performance. The drivers' actions can improve safety, response time, and customer experience, as well as reduce costs and carbon footprint. The module has spoken alerts that notify drivers when they are speeding off-emergency, alerts them to inefficient driving behaviours and has a direct impact on fuel consumption and costs. Coaching more fuel-efficient driver behaviours reduces the carbon footprint across the entire fleet.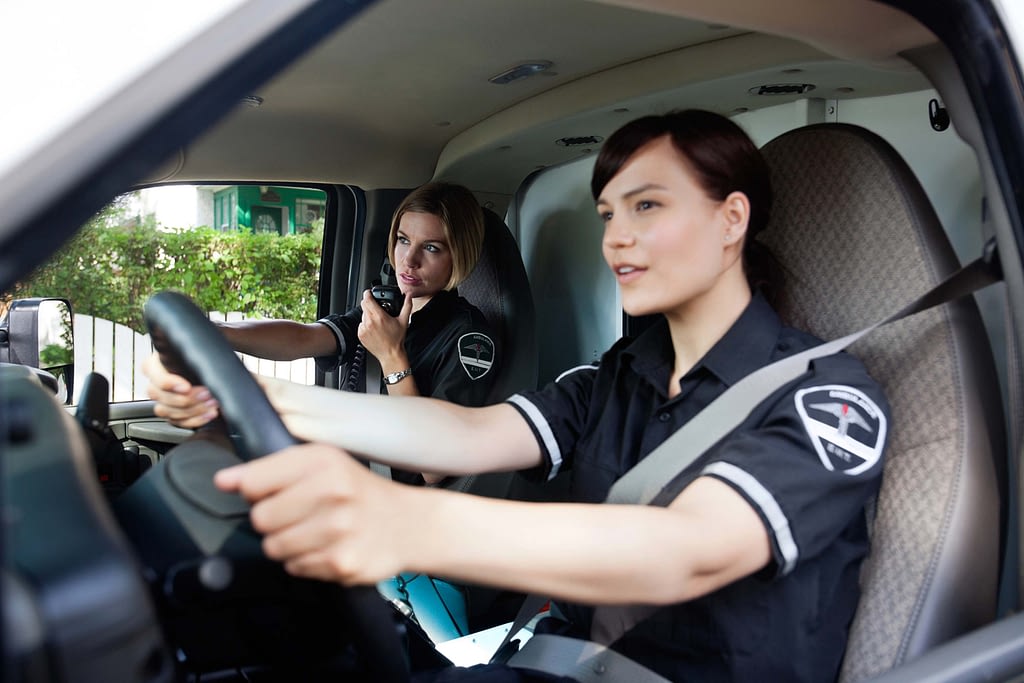 ACETECH™ ECO-Run 
Engine idling drives up costs of Emergency Service fleets. ACETECH™ ECO-RUN is an environmentally friendly module that turns your engine off and on when necessary and minimizes unnecessary vehicle idling. It helps reduce costs, promotes better driving behaviour, and reduces emissions to create a more Eco-friendly fleet. This module allows you to park with emergency lights, radio, cameras and climate control in operation, even when the vehicles engine is turned off. It monitors and maintains an optimal temperature environment, makes sure on-board medical equipment is receiving optimal charge, protects vehicles from theft, and creates detailed reporting on rpm, idling, fuel usage, carbon savings and cost savings. It has a secondary benefit of not only dramatically reducing fuel consumption, but also reducing wear and tear on engines, decreasing overall maintenance costs.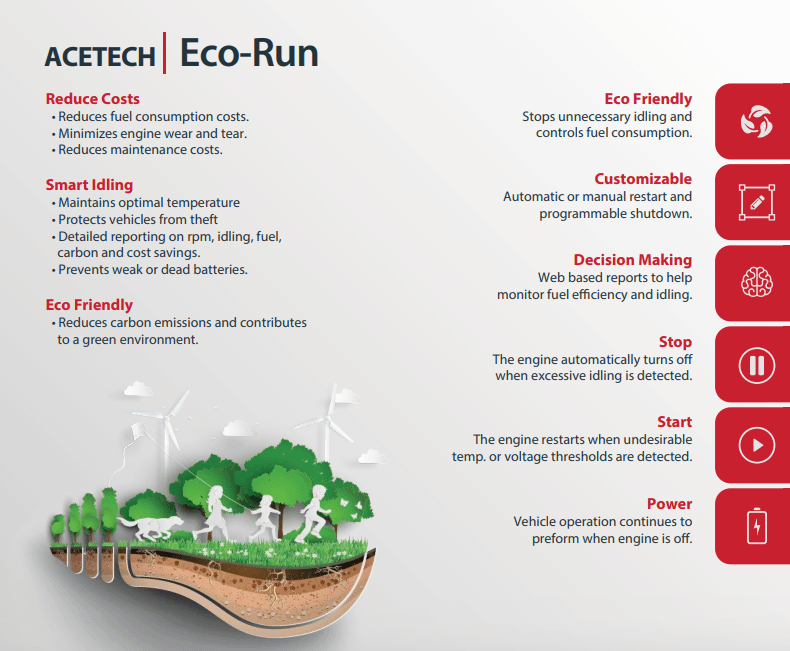 For Example:  
In November 2012, Middlesex London Emergency Service Fleet in Canada made the strategic and environmentally conscious decision to implement an anti-idling solution in their EMS fleet. ACETECH™ continuously monitored their fleet and identified exceptionally high idling times. This fuel consuming activity needed to be resolved to prevent unnecessary costs and lessen negative impact on the environment.
ACETECH™ recommended installing an Eco-friendly module called ACETECH™ ECO-RUN that automatically manages engine idling. It monitors the battery levels and temperatures of the driver and patient compartment – in the right conditions, the system will automatically shut off the engine, therefore reducing unnecessary idling. The engine also automatically restarts when necessary, so the vehicle is always ready to go.  

ACETECH™ installed the ECO-RUN Module in a fleet of 37 Middlesex emergency service vehicles in 2013. Since then, analysis has shown the following improvements per annum for the full fleet:  
• Engine Idling Reduction by 76% 
• Fuel Savings of 49,284l per year 
• Cost Savings $64,069 
• Carbon Savings of 223,469lbs per year
ACETECH™ Solar 
It is vital that EMS Fleets are always powered up. ACETECH™ Solar supplies an endless and unlimited source of energy, reducing the need for engine idle or return to base for shoreline power. This helps our clients to optimise their fleet operations, cut costs and minimize their environmental footprint. With this state-of-the-art system, you can keep track of your battery levels and fuel consumption on a desktop or mobile device. ACETECH™ Solar automatically charges your batteries to keep your fleet and electronic equipment operational. With reduced shoreline charging (which commonly comes from carbon intensive energy sources), the fleet has more time to spend on the road, resulting in smaller and more efficient EMS fleets. Always-on charging keeps equipment at optimum levels and ready-to-go. The reduced power consumption on the engine significantly lessens idling and reduces fuel consumption by up to 300l of fuel per vehicle annually. 
Solar module savings is in battery replacements per vehicle per year, which is reduced by between 40 to 60% per vehicle per year. Battery waste is a particularly prevalent problem, especially due to the critical impact it can have on the environment and biodiversity. In addition, the massive savings in greenhouse gas emissions and the significantly less carbon–intensive production measures mean a massive saving on environmental impact.