If you have a look at the graphic above, you will see just how powerful social distancing can be!
One method health experts and Centers for Disease Control and Prevention (CDC) officials are suggesting to limit a person's risk of exposure — or of spreading the virus, which the CDC says is transmitted through droplets from coughs and sneezes between people who are up to six feet apart from one another — is "social distancing."
Put simply, social distancing involves staying away from other people in order to avoid catching or spreading a virus, it refers to maintaining enough distance between yourself and another person to reduce the risk of breathing in droplets that are produced when an infected person coughs or sneezes.
 Health experts believe that avoiding crowds of people will be important in slowing the spread of COVID19. Along with this, even though it may seem simple, practicing good hygiene habits such as washing your hands and covering your cough will help to stop or slow the spread.
It is vital in helping to 'flatten the curve', you have probably heard this numerous times in the news and on social media over the last few weeks, what exactly does it mean?
The "curve" researchers are talking about refers to the projected number of people who will contract COVID-19 over a period of time.
The faster the infection curve rises, the quicker the local health care system gets overloaded beyond its capacity to treat people. As we're seeing in Italy, more and more new patients may be forced to go without ICU beds, and more and more hospitals may run out of the basic supplies they need to respond to the outbreak.
A flatter curve, on the other hand, assumes the same number of people ultimately get infected, but over a longer period of time. A slower infection rate means a less stressed health care system, fewer hospital visits on any given day and fewer sick people being turned away. Here's what one looks like: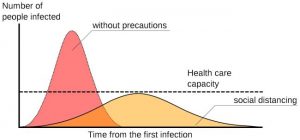 All these efforts of social distancing are designed to slow the spread of the virus, so that a small percentage of people who are going to get seriously ill won't occur at the same time. Instead, they can be spread out so that the system can absorb them and give them the appropriate level of care. There is some cause for optimism, we explored this in a recent article that you can check out here.
Social distancing doesn't mean you need to shelter in a bunker for two weeks, but you do need to be smart about the number of people you're interacting with.
Find out more about ACETECH Here
Information from Live Science, Buzz Feed and CIDRAP.